Pueblo Frequency Specific Microcurrent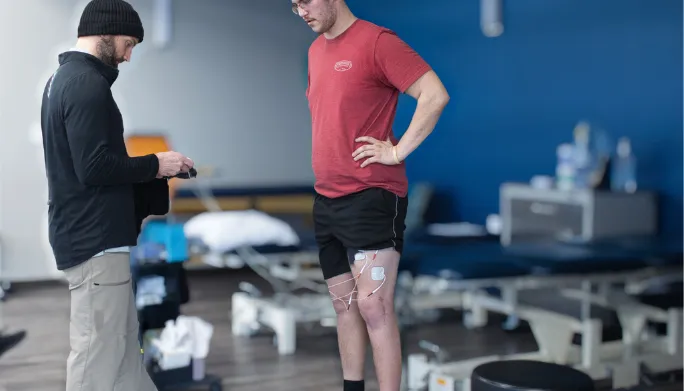 What is Frequency Specific Microcurrent 
Frequency Specific Microcurrent (FSM) is an innovative therapy system that leverages the power of micro-amperage electrical currents and the resonant effects of specific frequencies to promote positive changes in symptoms and overall health. FSM is sometimes referred to by the same name. This treatment method harnesses the resonance properties of frequencies to impact tissues and conditions, thereby producing beneficial changes.
How does Frequency Specific Microcurrent work in Pueblo?
Frequency Specific Microcurrent (FSM) is a type of treatment that employs micro-amperage electrical currents, similar to Transcutaneous Electrical Nerve Stimulation (TENS) devices. The US Food and Drug Administration (FDA) has classified FSM as a type of TENS device. The treatment involves the application of precise, low-dose electrical energy to the body at specific frequencies. Health professionals determine the appropriate frequencies for each patient by observing the patient's response to the treatment. This therapy is usually performed by chiropractors.
The frequencies used in FSM are measured in hertz and can be in the form of either sound waves or electronic pulses. FSM uses two channels of electromagnetic pulses that fire simultaneously. Most microcurrent devices use square wave pulses, as they have been found to be more effective in clinical settings. In FSM, the frequency thought to neutralize the condition is applied through channel A, while the frequency thought to treat the affected tissue is applied through channel B. All frequencies used in FSM are less than 1000 Hz.
Benefits of Frequency Specific Microcurrent in Pueblo
Frequency Specific Microcurrent (FSM) is a highly effective treatment for nerve and muscle pain, inflammation, and scar tissue. It offers a unique and promising solution for tissues that are unresponsive to traditional methods, such as damaged nerves, nerve pain or injury, scar tissue, adhesions, and can facilitate healing of both acute and chronic injuries. FSM has been shown to be effective in treating various injuries and chronic pain conditions, including soft tissue injuries, CFS, and fibromyalgia, among others. Its primary use is for the treatment of pain, particularly nerve and muscle pain, inflammation, and scar tissue, as well as other related conditions.
The success of FSM therapy depends entirely on proper diagnosis. Shoulder pain can originate from a variety of sources including muscles, tendons, bursa, discs, nerves, and joints, and FSM can effectively treat all of these pain generators. For instance, if you are using FSM to treat shoulder muscle pain, but the pain is actually caused by the bursa or nerves, the therapy will not be effective, as the pain is not coming from the muscle.
One mechanism of FSM is to potentially boost the production of ATP in damaged tissues. ATP is the main energy source for all cellular activities in the body. FSM has been shown to increase ATP production by up to 500% in targeted tissues, which may aid in the healing process. The therapy may also "loosen" or soften the muscles, depending on the condition, helping to reduce pain and stiffness.
Is Frequency Specific Microcurrent for everyone?
Individuals who should avoid FSM therapy include those with pacemakers, implanted pumps, uncontrolled seizures, and pregnant women. Additionally, patients with cancer may choose to steer clear of the treatment. This is done as a precautionary measure, rather than due to any established negative effects. It is recommended that you consult with your chiropractic practitioner to determine if FSM is appropriate for your specific circumstances.
Request An Appointment
Please fill out this form and
we will contact you about scheduling.


Larry R

"I was referred to Synergy by my Health Care Provider. From the moment I walked into the treatment center, I was impressed with the professionalism of the administrative staff and the
therapist's commitment to improve my quality of life.
The treatment I needed was both varied and complex. I found the therapists to be extremely knowledgeable, caring and determined to improve my physical wellbeing which they did. The entire Synergy Team was focused on improving my quality of life, which they did.
I wouldn't hesitate based upon my personal experience, to recommend anyone requiring high quality personally designed physical therapy intervention to Synergy. This team is awesome!"


Ruqayya D.

"Synergy is an awesome place to go get healed at. I was at the point where I was going to need a cane. Joe the owner zapped with an electrical acupuncture and I immediately felt better than I had in a long while. He and the staff are wonderful to us patients. Jacob is a wonderful therapist. He is thoughtful, funny, yet firm on you to make sure that you reach your goal. I recommend Synergy to anyone looking to recover in a timely manner."