Pueblo Functional Dry Needling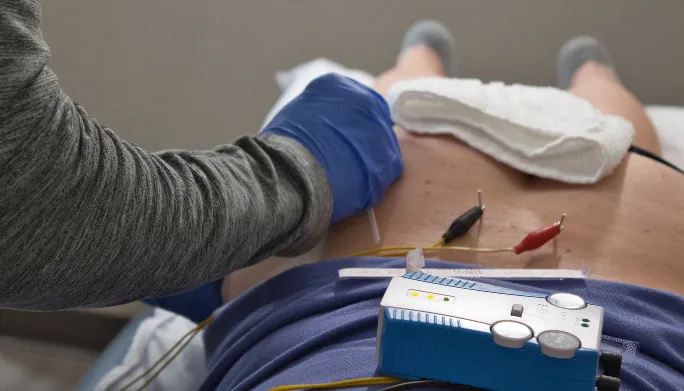 WHAT IS DRY NEEDLING?
"Dry needling is a skilled intervention that uses a thin filiform needle [much smaller than a typical hypodermic needle] to penetrate the skin and stimulate underlying myofascial trigger points, muscular, and connective tissues for the management of neuromusculoskeletal pain and movement impairments. [It] is a technique used to treat dysfunctions in skeletal muscle, fascia, and connective tissue, and to diminish persistent peripheral nociceptive input, and reduce or restore impairments in body structure and function, leading to improved activity and participation."
BENEFITS OF DRY NEEDLING IN PUEBLO
Your therapist will work with you to help identify "trigger points" present, or other generally painful and/or dysfunctional areas in your muscles that may be contributing to your symptoms. The needle is then advanced into these locations in order to achieve a local twitch response which can help release muscle tension, diminish pain, increase flexibility of the tissue, and quiet muscular activity and spasm. Electrical stimulation may also be applied to help facilitate desired muscle activity, or to provide further relief from symptoms.  This is most often followed up with individually-tailored exercises designed to further improve function. Dry needling is a safe and effective treatment for chronic pain of neuropathic origin with very few side effects.
HOW IS IT DIFFERENT FROM ACUPUNCTURE?
Physical therapists who perform Functional Dry Needling consider every muscle and its relationship to the body, seeking to address these tissues for improved function and pain.
"The practice of acupuncture by acupuncturists and the performance of dry needling by physical therapists differ in terms of historical, philosophical, indicative, and practical context. The performance of modern dry needling by physical therapists is based on western neuroanatomy and modern scientific study of the musculoskeletal and nervous system. Physical therapists who perform dry needling do not use traditional acupuncture theories or acupuncture terminology."
"Health care education and practice have developed in such a way that most professions today share some procedures, tools, or interventions with other regulated professions. It is unreasonable to expect a profession to have exclusive domain over an intervention, tool, or modality."
WHAT ARE THE RISKS OF DRY NEEDLING?
Your therapist is well-educated in the possible precautions, contraindications and complications that may arise, and these will be discussed with you prior to the procedure. Some conditions and cases may not be appropriate for Dry Needling, so it is just as important that a therapist recognize and discuss what CAN'T be treated by Dry Needling as well as what CAN.
DO I NEED TO CONTACT MY DOCTOR OR GO THROUGH MY INSURANCE CARRIER TO RECEIVE DRY NEEDLING?
No. We do have cash-pay options available for any treatment with our providers, and some people choose to do this rather than to receive a referral or to go through their insurance. If you are referred here, Dry Needling may be appropriate to include in your course of care, and is covered by most insurance providers. This can be discussed further with your therapist.
Request An Appointment
Please fill out this form and
we will contact you about scheduling.


Graycie E.

"Synergy is one of the best rehabilitation facilities I have ever been to. I have had many sports injuries, and each time the staff there has been able to support me and get me feeling painless and strong again! The front desk if very friendly and efficient, and each therapist is highly knowledgeable and supportive. I absolutely recommend for anyone who is in pain or is injured, they will make you feel good and new again! PS, The Dry Needling was a game changer, so I would totally ask them about that!"


Melsbells R.

"I go to Synergy Physical Therapy & Wellness twice a week for back issues and sciatica issues. Dan does the first appointment of the week and its called needling. Yes it is exactly the way it sounds he puts needles into my back in select areas and adds electrical current to the needles. This may sound extreme but not being able to walk through the store to purchase my monthly supplies is extreme. I have had three sessions and I am a new woman now able to walk through the store and any where else I want to go. I highly recommend needling if you are offered this as a physical therapy treatment. LOVE my therapists at synergy thanks to them I have my life back."