WE DID IT! With your help we won the Best Physical Therapy Clinic in Pueblo award! Our hard work paid off and our loyal patients showed their appreciation. For that we are very thankful.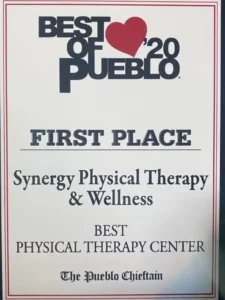 We will always strive to deliver the best Physical Therapy in Pueblo.  We accomplish this by constantly improving and staying up to date with the latest and most effective treatment methods. Most importantly, we will continue to follow our core value of delivering Physical Therapy in Pueblo in a warm, caring and individualized manner. We realize that everyone is unique and deserves to be treated that way. At Synergy Physical Therapy & Wellness you are not just a "patient". You are a person we have the privilege of helping and getting to know along the way. You are the reason we are here. You are the reason we get to do this amazing thing called Physical Therapy.
From the moment you walk in the door and are welcomed in a
genuine and warm manner by our superstar office staff right through to the end
of your session where our awesome therapist and clinical team members ensure
you have no other questions or concerns, you will be treated with the care and appreciation
you deserve. This is our pledge to you.
Once again thanks to you Pueblo for allowing us to receive
this award. It means a lot to us and we are truly grateful.
Sincerely,
The Synergy Team