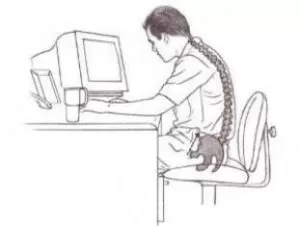 We all sit. Either by choice or by necessity. Some of us more than others. Sitting has long been known to place excessive stress on the low back, leading to low back pain, sciatica and hip pain,  but what other negative effects does sitting have on the body? A recent study published in The Archives of Internal Medicine proved a significant decrease in lifespan in those who sat the most. Surprisingly, even those who exercised regularly suffered the same fate. In other words hitting the gym regularly does not erase the negative of sitting.
So what should you do? Simple, sit as little as possible. Stand whenever you can. Alright but how do you actually do this? First and foremost realize that sitting is more of a habit than a necessity for most. Why do people sit at an airport boarding gate when they have sat most of the day and will be sitting for the rest of the day? Why do people sit and talk instead of walk and talk? Why are you reading this while sitting at your computer desk, kitchen table or couch? Habit.
So what should you do? That's also fairly simple. First and foremost change the way you think about sitting. Sitting is bad, standing is good. Second raise you work or home desk height. This can be as simple as placing a box of office paper on top of your desk and placing you computer on top of that or as complex as purchasing a desk that raises and lowers to pre set heights at the push of a button. Of course all your body knows is that it is standing more than sitting and believe me it will thank you for it. Third, make these changes right now.
Have a healthy day!
Joe Ruzich, PT
Orthopedic Physical Therapist
Synergy Physical Therapy & Wellness and Wellness, PLLC