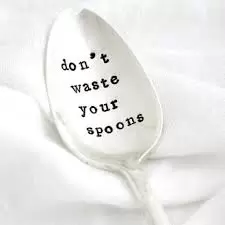 Imagine you were given 10 spoons. With each task you do, you must put a spoon down that cannot be used again until the next day. Different tasks cost different amounts of spoons, just like tasks in our daily lives cost us different amounts of energy to complete. For example, grocery shopping may cost you 2 spoons, work may cost you 3 spoons, and driving to physical therapy may cost you 1 spoon.  Once you are out of spoons for the day, you are out of energy for the day and must go lay down to sleep. Think about how many tasks you can complete in one day with just 10 spoons…
This analogy encompasses the Spoon Theory, established in 2003 by an individual living with lupus. Lupus is an auto-immune disease, and like other long-term conditions, it causes varying day-to-day symptoms and constant pain. The creator of the Spoon Theory said that she is someone who must manage how she uses her energy throughout the day to avoid increasing symptoms the following day. She called herself a Spoonie.
Spoonies, or individuals living with long-term conditions, are people who should count their imaginary spoons for the day to figure out how to use them best. In other words, they are people who need to budget their energy for the day so they can complete all the tasks they need or want to each day. While healthy individuals have plenty of spoons to get through the day doing whatever tasks they'd like to do, spoonies must organize tasks appropriately to utilize their spoons in the best way each day.
As a spoonie, daily tasks may cost you more spoons than someone who does not live with an illness or condition. Additionally, you may wake up with less spoons on some days based on quality of sleep, how much energy you spent the day before, changes in pain or symptoms, and other factors such as daily nutrition, feeling sick or under the weather, etc. Approaching the day with less spoons means you need to use your spoons on the tasks most important for you to complete instead of pushing through all the tasks you need to do. Pushing through tasks may feel rewarding for the day, but likely will cause a crash in energy the following day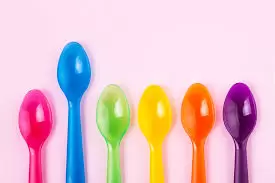 If you think you might be a Spoonie, each day you wake up ask yourself how much energy you feel like you have for the day. If it feels lower than usual, try to cut down on extra tasks that don't need to be done that day. If it feels higher than usual, budget your energy and approach the day with a plan. Although it feels like you can do anything and everything on the days when symptoms are at bay, do activities that you can enjoy without depleting all your energy available.
If you have any questions about the Spoon Theory, being a Spoonie, or techniques to manage your daily spoons (energy) talk to one of our PTs or PTAs during your next appointment at Synergy Physical Therapy & Wellness and Wellness.

Written by Alison Golladay, SPT MSU Images from:
https://www.google.com/imgres?imgurl=https%3A%2F%2Fcdn.painscale.com%2Fcms%2Fimgs%2Ffa7c2a60-426a-11eb-87d5-15e76591973e.jpg&imgrefurl=https%3A%2F%2Fwww.painscale.com%2Farticle%2Fwhat-is-the-spoon-theory&tbnid=mGCEFsQBkFBJJM&vet=12ahUKEwjzgO76zfv3AhVWYs0KHehpAtAQMygyegQIARA-..i&docid=LFjufsrjWbpQfM&w=724&h=483&q=spoon%20theory%20chronic%20pain&ved=2ahUKEwjzgO76zfv3AhVWYs0KHehpAtAQMygyegQIARA-https://www.google.com/imgres?imgurl=https%3A%2F%2Fwww.patientsrising.org%2Fwp-content%2Fuploads%2F2017%2F04%2FSpoonie.jpg&imgrefurl=https%3A%2F%2Fwww.patientsrising.org%2Fwhat-is-spoonie%2F&tbnid=kVBsudNRZI5LNM&vet=12ahUKEwjzgO76zfv3AhVWYs0KHehpAtAQMygdegUIARD5AQ..i&docid=EENAIKxmzYgwjM&w=346&h=346&q=spoon%20theory%20chronic%20pain&ved=2ahUKEwjzgO76zfv3AhVWYs0KHehpAtAQMygdegUIARD5AQ